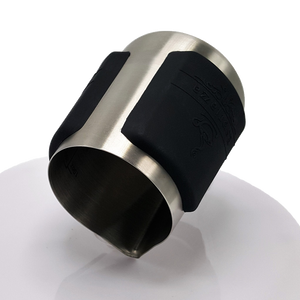 12oz / 350 ml Milk Frothing Pitcher
Sale price Price $23.95 Regular price
12 oz / 350 ml version of the popular Espriazza Milk Frothing Pitcher perfect for cappuccinos and macchiatos.
Bell-shaped, stainless steel & handle free, this frothing pitcher gives you extreme control with heat-resistant silicone grips. Plus, boost speed & cut waste with a narrow spout & built-in measuring.
No handle & silicone pads allow greater control for creating intricate latte art designs like a pro.

Minimize drips & enjoy outstanding precision with our unique narrow, fluted spout.

Achieve ultimate microfoam consistently with this pitcher's vortex-friendly, bell-shaped design.

Save time & reduce waste thanks to built-in, dual measurements (oz/ml).

Stainless steel construction lasts for years. Durable, corrosion resistant & dishwasher safe.
Want complete control of your artwork? Now you have it with the Espriazza Milk Frothing Pitcher. Unlike standard containers, your milk frother cup uses silicone pads for steadier, more precise pours. Adhered to the pitcher itself, the durable grips are heat-resistant & designed to fit comfortably in any size hand. For temperature regulation, your frothing jug has plenty of room for either fingertip testing or a thermometer clip.
Increase Efficiency & Eliminate Overpouring
Own a coffee shop? With built-in measurements, this steamed milk pitcher combines 2 must-have tools for accurate amounts every time. Achieve high-quality, reproducible results across your staff. No more dirtying up extra dishes and squandering expensive milk.
Designed for New Hires & Seasoned Pros
Ordinary, straight-walled pitchers can be hard to use for beginner baristas. That's why your metal frothing cup offers a unique, bell-shaped design. Achieving a vortex and ultra-smooth microfoam is easier than ever. Plus, it's dishwasher safe for quick cleaning. Other features include:
• 8 cm x 7.5 cm x 9.3 cm
• Holds 12 ounces (350 ml)
• Quality 18/8 stainless steel (304) 0.7mm thick
• Ultra-narrow, fluted spout
• Sleek, brushed finish
Order Now
Makes a great gift for coffee lovers, so pick up one for yourself and a friend today.